Osaki OS-Pro 4D Emperor Massage Chair Review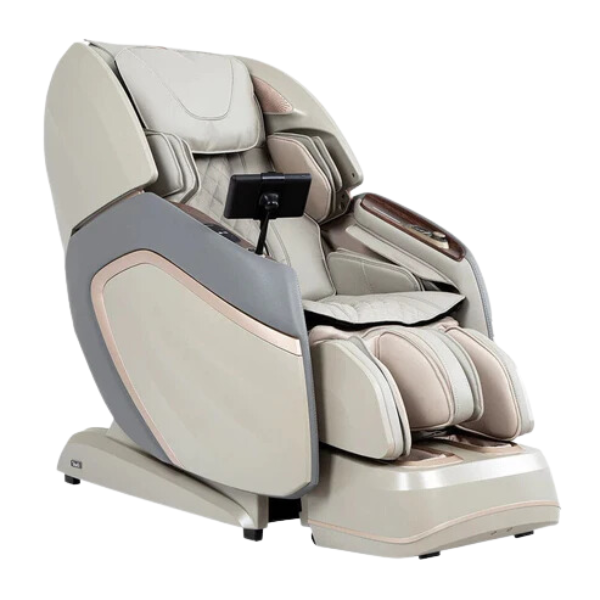 Thank you for reading our expert review of Titan's latest release, Osaki OS-Pro 4D Emperor massage chair. Osaki OS-Pro 4D Emperor should be at the top of your list if you're searching for a high-end chair at the best value for your money. This new Titan comes equipped with the most advanced features in the industry and cutting-edge technology to provide you with unmatched massages whenever you desire. The luxurious and innovative design of the Titan Emperor will blend well with any modern interior. The Emperor is the perfect massage chair for those who need help reducing stress, improving flexibility, and relieving tension and pain.

Who Are Our Recommended Users?

The Osaki OS-Pro 4D Emperor is covered in beautiful high-grade synthetic leather with a sophisticated diamond stitch pattern which is simple to maintain and clean. The Emperor has been developed with a variety of body shapes in mind:  
Anyone with an average-sized stature looking for a smooth and fluid deep tissue 4D S/L-Track with full body air compression and a therapeutic foot and calf massage at an excellent value for a

Premium Massage Chair

.   
Anyone with a height ranging from 5'0" to 6'2" who weighs under 260 lbs. The seat width is 18" which is standard for a massage chair.  
Unique Qualities of the Osaki OS-Pro 4D Emperor Massage Chair 
The following is an in-depth look at some of the key features that make the Osaki OS-Pro 4D Emperor unique: 
4D Massage Rollers
The quad-rollers are fully adjustable and can be tailored to meet your needs based on speed, pressure, and timing. The Emperor delivers full coveragemassage to your back from your shoulder region all the way down to your glutes using a human-like 4D massage chair roller system. Additionally, the Emperor's long-reaching SL-track and computerized body scanning can efficiently map out every inch of your spine and shoulders. This ensures that the massage rollers can exert the right amount of pressure throughout each treatment.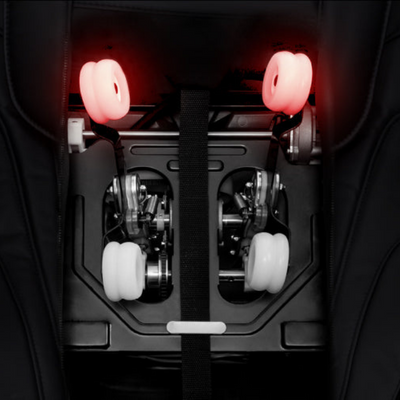 Heated Back Rollers
The Emperor's unique heated back rollers give heating everywhere along the spinal area, unlike most massage chairs that only provide it in a few, isolated locations (such the lumbar area). Because these cutting-edge rollers gently distribute heat in a soothing, fluid motion from the neck area to the glutes, your knots and tension will just melt away.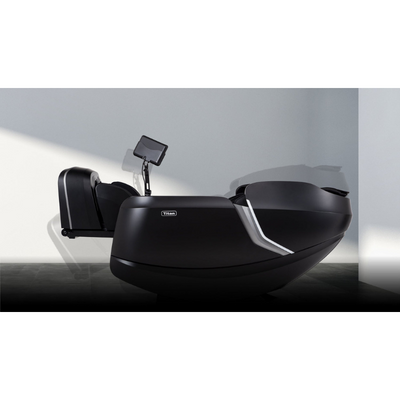 Advanced 2-Stage Zero Gravity 
The Titan Emperor's designers have taken the highly regarded, NASA-inspired Zero-gravity feature to a new level by enabling the Emperor to offer two zero-gravity positions rather than just one. There are countless benefits of spinal decompression including improved blood circulation and reduced back pain. 
While the first stage is sufficient to minimize the effects of gravity, the second zero-gravity stage (position) is engaged even lower (backward) to heighten the sensation of weightlessness and maximize the advantages of the first position.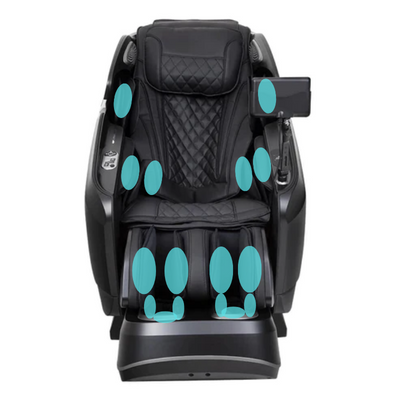 32 Air Cells for Full-Body Compression 
A full-body compression massage provided by the 32 air cells in the Osaki OS-Pro 4D Emperor nicely complements the quad-rollers. These air cells can be found all around the chair to access body parts that the rollers are unable to reach. By applying rhythmic compressions, air cells on the sides of the Emperor, for instance, thoroughly knead the user's arms and hands, while those near the calves and feet apply deep kneading and compressions to those areas. The Emperor's air cells cleverly apply adequate force using premium memory foam to provide optimum relief without causing pain or soreness.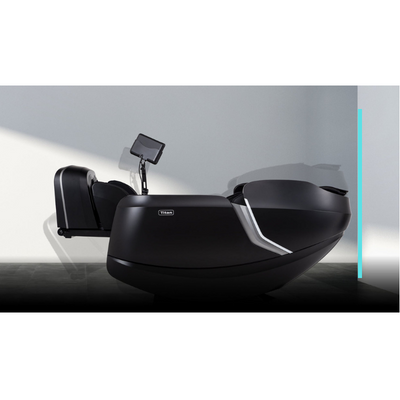 Space-Saving and Very Accommodating to Various Heights 
The Osaki OS-Pro 4D Emperor's engineers built the Emperor to be extremely adept at space optimization. In the first place, it has an automated extended footrest that gives tall users an extra 7.1 inches of length, preventing the need for more floor space only to accommodate taller persons. Second, it can transition from its completely upright to its fully reclined positions with just 4.5 inches of gap between it and the wall behind.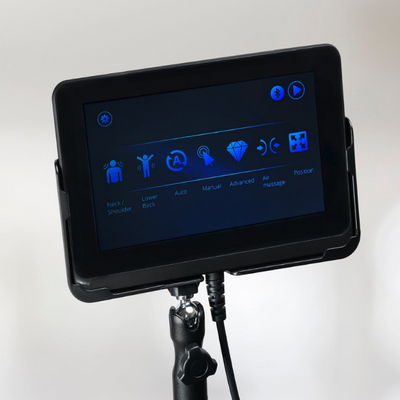 Innovative Technology 
The Osaki OS-Pro 4D Emperor offers a fantastic massage in addition to utilizing the latest in massage chair innovations and conveniences. A large touchscreen remote gives the users virtually unlimited access to the chair's settings and massages. The touchscreen is fastened to an easy-pivot mount, allowing you to perfectly view the screen from any position. 
So overall, the Osaki OS-Pro 4D Emperor is one of our favorite chairs and we're really excited about this new addition to the Osaki Lineup. The Emperor delivers an excellent full-body deep tissue massage that feels just like the hands of a masseuse. If you have any questions about this chair, feel free to give us a call at 800-416-4304 or chat with us online and we'll be glad to help!