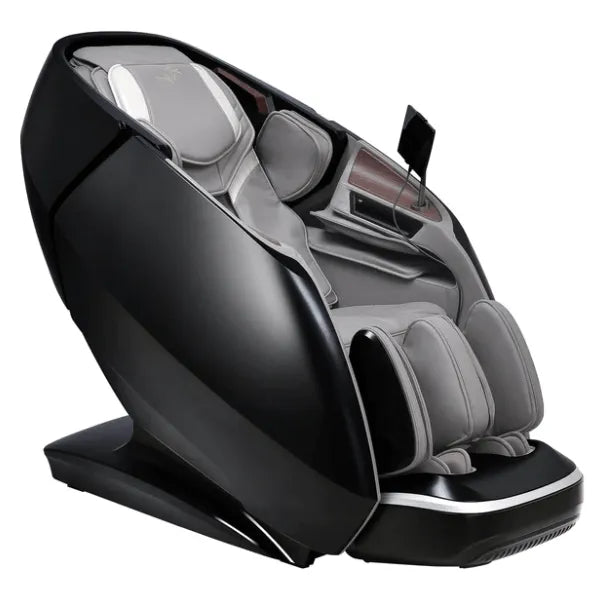 MassaMAX Alfine A665 4D Pro Yoga Queen Massage Chair
Save

$1,500.00
Save

$1,500.00
Specifications

Airbag Intensity Control: Yes
Arm Airbag Massage: Yes
Auto/Power Recline: Yes
Auto Programs: 20
Bluetooth Connectivity: Yes
Body Scan Technology: Yes
Cal Airbags: Yes
Calf Rollers: Yes
Calf Kneading: Yes
Weight: 249 lbs
Upright Dimension: 63.58 x 32.67 x 47.63
Recline Dimension: 70.87 x 33.07 x 34.25
Foot Airbags: Yes
Foot Rollers: Yes
Heat Function: Yes (cape)
Roller Track: i-OPEN Flexible
Program Customization & Recall: Yes
Auto Footrest Extension: Yes
Full Body Stretch Massage: Yes
Spot & Partial Massage: Yes
Hip/Thigh Airbag Massage: No
Remote Control: Touch Screen, Armrest Control Panel
Voice Control: Yes
Speed Adjustment: Yes
4D Roller Intensity Control: Yes
Zero Gravity: Yes
Program Time Indicator: Yes
Removable/Adjustable Pillow: Yes
Recommended User Weight: 260 lbs
Recommended User Height: 6'1"
Space Saving: 3.94"
Charging: USB
Warranty: 3Y
Warranty

Massage Chair Max guarantees that the massage chairs come with a three year limited warranty (Three years from date of purchase).
During the first year, the warranty covers free maintenance and repair for any defect in workmanship or materials.
During the second and third year, the warranty covers  the cost of parts,  excluding labor.
You may obtain service advice by contacting the Massage Chair Max Customer Service department toll-free at (800) 550-0819.