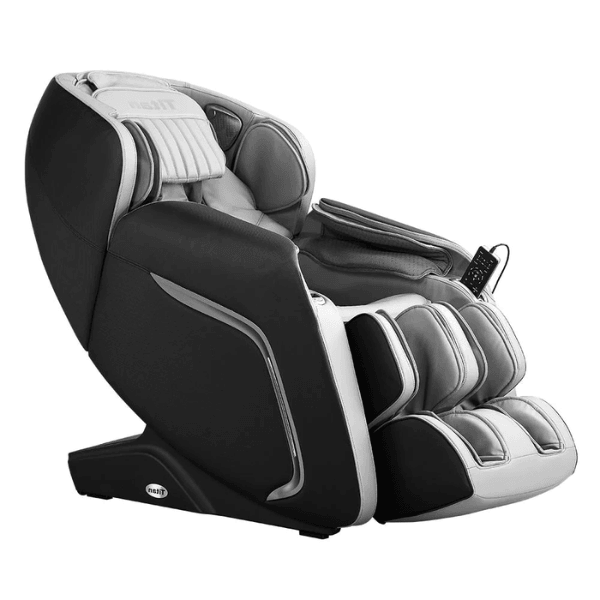 Titan TP-Cosmo Massage Chair
$1,000.00

OFF
$1,000.00

OFF
Specifications

Country of Manufacture: China
Massage Roller: 2D Quad Style Rollers
Massage Roller Track: SL-Track
Massage Roller Adjustments: 5 Levels of Speed and 2 Widths
Glute Massage: Rollers
Body Scan Technology: Yes
Foot Massage: Foot Rollers and Air Compression
Recline: Powered
Zero Gravity Recline: 3 Stages Zero Gravity
Automatic Programs: 12 Automatic Programs
Manual Programs: Whole Body, Fixed Point
Massage Techniques: Shiatsu, kneading, knead, tapping, kneading and tapping, and knocking
Stretch Program: Yes
Heat Therapy: Lumbar
Total Airbags: 16
Airbag Intensity Adjustments: 3 Levels of Intensity
Calf Massage: Air Compression
Ottoman Length Adjustment: Automatic
Bluetooth Speakers: Yes
Upholstery: Synthetic Leather

Space-Saving: Yes
Timer Setting: 20 Minutes
Device Charging; USB
Air Massage: Shoulders, Arm and Hands, Calves, and Feet
Distance to Wall: 2"
Height Range: 5'0" - 6'0"
Controller Types: Slim Button LCS Remote, Quick Controls
Voice Control: Voice Activation
Dimensions Upright: 62" x 29.5" x 46.5"
Dimensions Recline: 67.7" x 29.5" x 34"
Recommended Weight: 270lbs.
Warranty: 3 Year Limited Warranty
Warranty

Titan 3 Year "Rock Solid" Warranty

Titan massage chairs guarantees that your qualified product will be replaced or repaired, without cost to you, should it be deemed defective because of faulty parts, workmanship or structural defects during the first THREE(3) years of ownership, excluding specific limitations. Titan Covers Parts, Labor, and Structural Framework for the 1st year of ownership, Parts and Structural Framework for the 2nd year, and the Structural Framework for the 3rd years.

Titan Extended Warranty

Titan offers 2 extended warranties which will add to the part and labor. You are able to add 1 additional year to each parts and labor, or 2 years. If you purchase the one year, that means you will now have 2 years parts and labor and 3 years parts.

 

You may obtain service advice by contacting the Titan Customer Service department toll-free at 1-888-848-2630.

Guardian 5 Year Parts & Labor Extended Limited Warranty (Optional)

Click Here For Details   

Call Guardian Plan 800-527-8485 or email gwarranty@guardianproducts.net for more details.