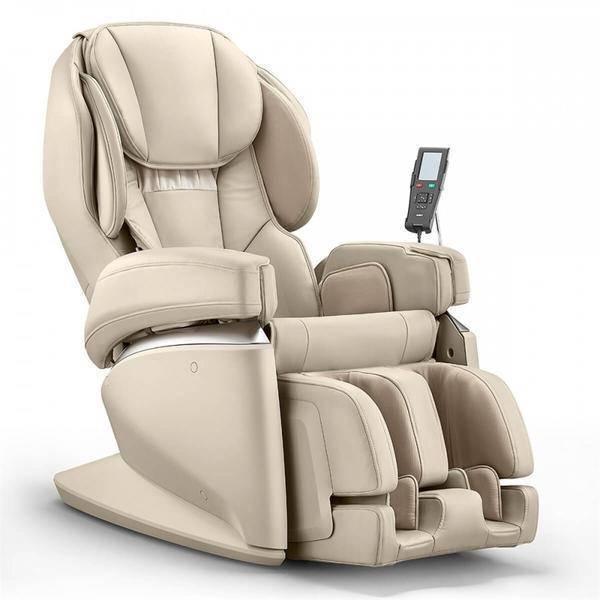 Synca JP1100 4D Massage Chair
Save

$1,000.00
Save

$1,000.00
Specifications

Manufacturer: Synca Wellness
Country of Manufacture: Japan
Roller Type: 4D
Roller Length: 31"
Roller Track Type: S-Track
Roller Width Adjustment: Yes
Roller Glute Massage: No
Roller Speed Adjustment: Yes
Roller Intensity Adjustment: Yes
Removable Back Pad: Yes
Body Scan Technology: Yes
Foot Rollers: Yes
Recline: Power
Zero Gravity: No
Inversion Therapy: No
Auto Programs: 21 Automatic Programs
Stretch Program: Yes
Deep Tissue Massage: Yes
Massage Techniques: 81 Different Techniques
Manual Programs: Yes
Spot/Partial Massage: Yes
Memory Setting: Yes
Vibration: No
Heat: Foot, Lumbar
Total Airbags: 31
Air Massage: Arm, Calf, Foot, Seat, Upper Arm and Shoulder
Airbag Intensity Adjustments: Yes
Ottoman Length Adjustment: Automatic
Hideaway Ottoman: No
Timer Setting: 5 to 30 Minutes
MP3 Player: No
Remote Type: Slim LCD Remote
Chromotherapy: No
Upholstery: Synthetic Leather

Space-Saving: Yes
Dimensions Upright (L" x W" x H"): 54.33" x 30" x 49.2"
Dimensions Recline (L" x W" x H"): 78.75" x 34.65" x 29.15"
Height Range: 5'0" - 6'2"
Recommended Weight (lbs): 300lbs.
Weight: 171lbs
Warranty: 5 Year Limited Warranty
Big Box Size (L" x W" x H"): 30" x 46.5" x 48"
Big Box Contents: No
Small Box Size (L" x W" x H"): No
Small Box Contents: No
Shipping Weight: 216lbs.
Warranty

Synca Wellness 5 Year Limited Warranty

Synca Wellness covers their premium massage chairs with a 5 Year Limited Warranty that includes:

• 5 Years of In-Home Service
• 5 Years of Parts and Labor
• 5 years of Structural Framework

If you need service on your Synca Wellness Massage Chair, please call their Customer Service department at 1-800-964-0124.

Guardian 5 Year Parts & Labor Extended Limited Warranty (Optional)

Click Here For Details   

Call Guardian Plan 800-527-8485 or email gwarranty@guardianproducts.net for more details.