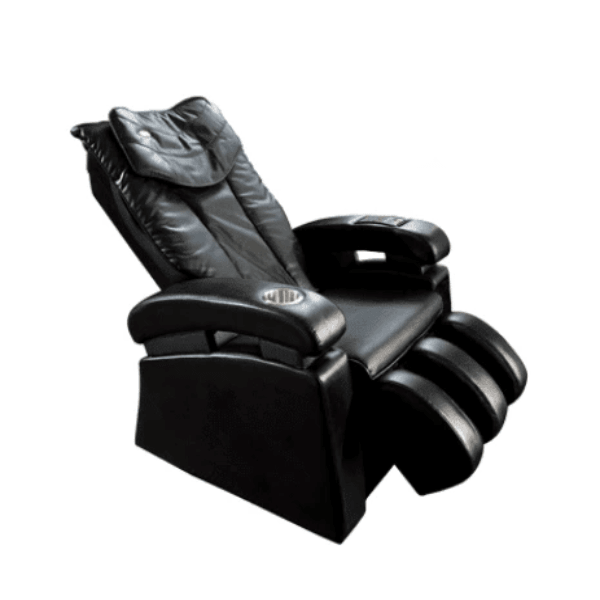 Luraco iRobotics Sofy Massage Chair
Save

$500.00
Save

$500.00
Specifications

Type of massage track: Traditional 2D
Proprietary intelligent robotic massage techniques: Simple
Experience the latest in massage technologies featuring ZERO GRAVITY: No
Body Heat: Yes
Seat Swing: No
Genuine Leather: Commercial Grade
User Memory: No
Foot Massage: No
Back Roller Type: Quad Rollers
Track Length: 75 cm/ 29.5 inches
Body and Foot Stretching: No
Seat Width: 22"
Touch screen remote control: Built In Right Arm Rest
Adjustable Intensity Heat and Body Massage Areas: 3 Levels
Heat Locations: Back
Shoulder height adjustment capability: Yes
Head, Neck, and Shoulder massage: Yes
Upper arm and hand massage: No
Customizable individual body part massage: No
Unique and advanced body stretching technique: No
Automatic leg length adjustment: No
Upper arm and hand massage: Yes
Pause Function: Yes
Sleep Mode: Yes
Full-Function 3 dimensional (3D) back massage: No
Auto pre-programs: 2 auto modes Soft, Shiatsu
Advanced Sensor for Body Scan: Yes
Number of Massage air bags: 0
Ultra clean audio MP3 player for enhancing mind relaxation: No
Intelligent self-diagnostics: Yes
Human voice response in English, Vietnamese,
Japanese, Korean, French, and Spanish: No
Built-in music amplifier and speakers: No
Residential warranty (parts & labor/parts/frame): 5 Years Parts
3 Years ServiceCommercial warranty: 6 months
Extended Warranty Available: Yes
BP Monitor Accessory (Optional): No
Chair Cover Accessory (Optional): No
UL & FDA listed: Yes
Height Range: 4'7" - 6'5"
User Weight: Upto 250lbs
Made in USA from US and Global Components: Yes
Box Dimensions (Arms): 65.8"L x 27.2"W x 44.7"H
Box Dimensions (Chair Body): 45.3"L x 26.7"W x 30.3"H
Gross Weight: 175 lbs
Palletized: 54"L x 40"H x 67"W
Palletized Gross Weight: 342lbs.
Warranty

Luraco iRobotics Sofy Warranty

Luraco covers their iRobotics Sofy massage chair for Home Use with a 5 Year Limited Warranty. The First 3 years include Parts and Labor. Parts replacement is covered for 5 years. The Structural Framework of the chair is covered for 5 years.

Luraco Extended Warranty

Luraco offers an Extended Warranty option for purchase. The Extended Warranty option covers the Luraco iRobotics Sofy massage chair with 5 years of comprehensive coverage that includes Parts, Labor, and Structural Framework for 5 years.

Luraco iRobotics Sofy Commercial Use

Luraco covers their iRobotics Sofy massage chair for Commercial Use with 1 Year Limited Warranty. The First 6 months covers parts and labor. Parts Replacement is covered for 1 year along with the Structural Framework.

To obtain service on your Luraco iRobotics 6 massage chair call 817.633.1080 or email support@luraco.com.

Guardian 5 Year Parts & Labor Extended Limited Warranty (Optional)

Click Here For Details   

Call Guardian Plan 800-527-8485 or email gwarranty@guardianproducts.net for more details.