Osaki Platinum Vera 4D+ Massage Chair Review
The Osaki Platinum Vera 4D+ Massage Chair boasts a revolutionary 4D+ roller system, which mimics the intricate movements of human hands, delivering a personalized and lifelike massage. With its comprehensive range of massage techniques, including kneading, tapping, rolling, and more, you can tailor your massage to your exact preferences, targeting specific areas of tension and stress. Equipped with an intuitive touchscreen remote, controlling and customizing your massage experience is effortless. Choose from an array of pre-programmed massage modes or create your own bespoke massage sequence. The chair's body scanning technology ensures that each massage is tailored precisely to your body's contours, guaranteeing optimal comfort and effectiveness. Experience the pinnacle of relaxation with the Osaki Platinum Vera 4D+ Massage Chair. Crafted to provide an unparalleled soothing and rejuvenating experience, this advanced massage chair combines cutting-edge technology with luxurious comfort.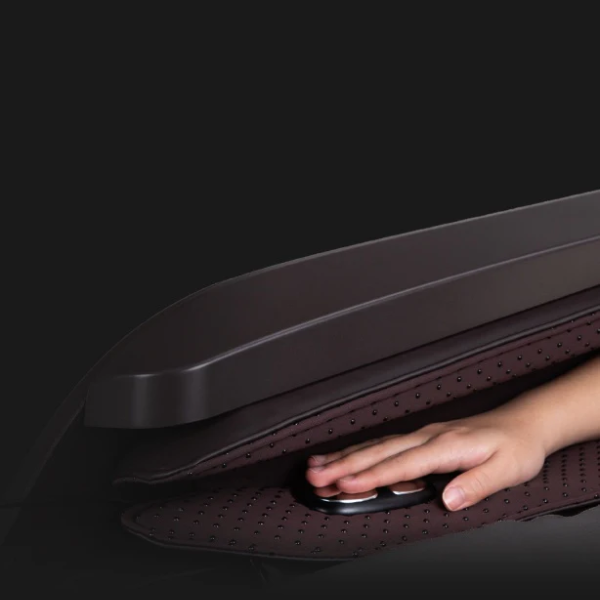 Intelligent AI Health Detection
The Intelligent AI Health Detection technology goes beyond conventional massage chair functions. Upon your first use, the chair conducts a thorough scan of your body, mapping out key pressure points and identifying areas of tension. This personalized assessment enables the chair to create a tailored massage program that addresses your specific needs, effectively targeting problem areas and promoting relaxation.
Throughout your massage session, the AI system continuously monitors your body's responses and adjusts the massage in real time. This dynamic adaptation ensures that each massage is precisely calibrated to provide maximum comfort and therapeutic benefit. Whether it's alleviating muscle knots, reducing stress, or improving circulation, the Osaki Platinum Vera's Intelligent AI Health Detection system intuitively refines its techniques to optimize your massage experience.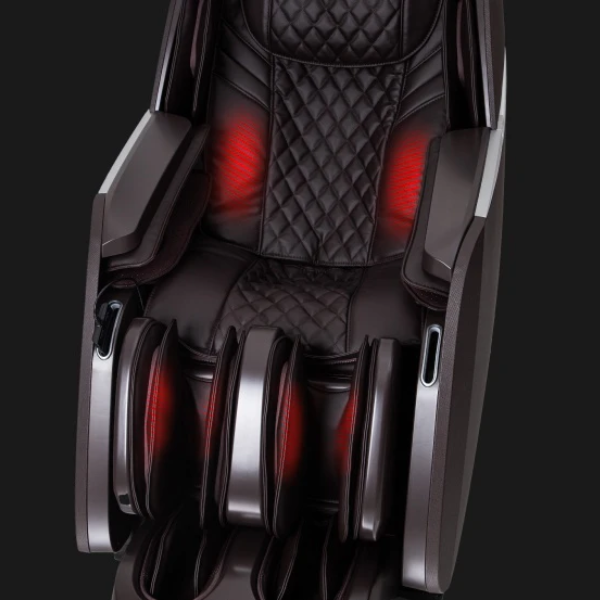 Lumbar and Calf Heat Therapy
The Lumbar Heat Therapy feature offers a specialized treatment for your lower back, a region often prone to tension and stress. Experience tranquility and relief like never before with the Calf Heat Therapy feature. As the chair envelopes your calves in a gentle embrace of warmth, you'll feel tension and fatigue dissipate. The heat encourages muscles to relax, enhancing the overall effectiveness of the massage and promoting a sense of serenity throughout your legs.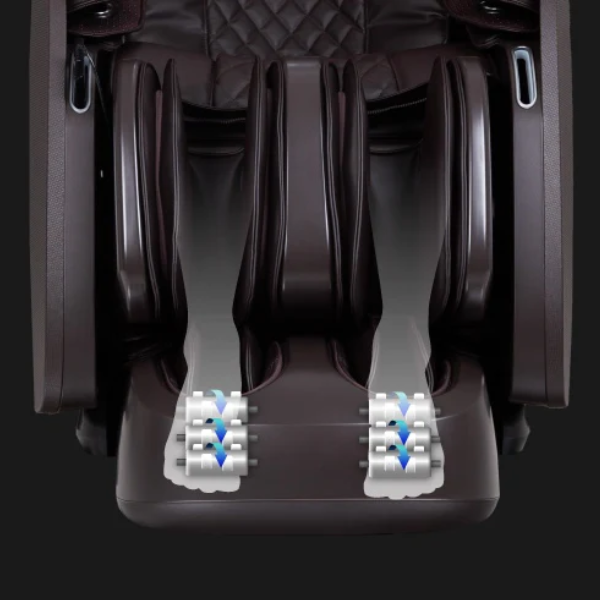 Specialized Triple Foot Rollers
The Specialized Triple Foot Rollers are a testament to the chair's commitment to holistic well-being. Nestled within the footrest, these expertly designed rollers employ a unique three-dimensional approach to massage, combining rolling, kneading, and pressing motions to create a comprehensive and revitalizing foot treatment. Whether you're seeking relief from everyday fatigue or simply looking to unwind after a long day, these rollers deliver a deeply satisfying massage experience that rejuvenates your feet from heel to toe.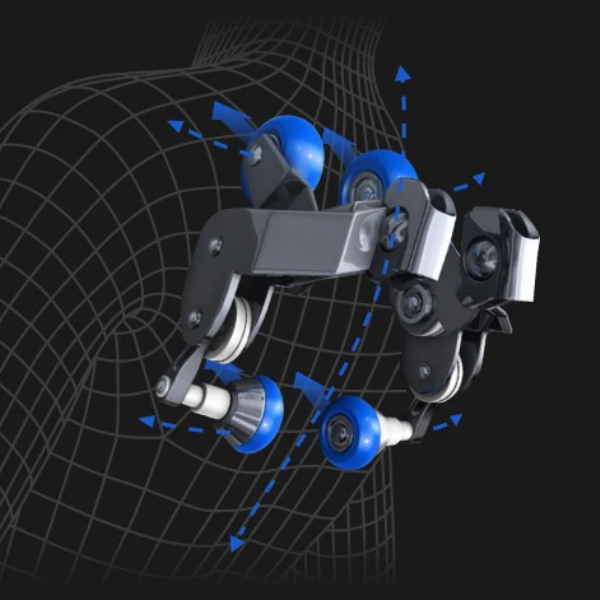 4D Massage Mechanism
At the heart of the Osaki Platinum Vera's innovative design is its advanced 4D Massage Mechanism. This revolutionary technology replicates the intricate movements of skilled human hands, offering an astonishingly lifelike and dynamic massage. Unlike traditional massage chairs, the 4D mechanism allows you to not only control the speed and intensity of the massage but also adjust the depth of the rollers' movements. This depth control capability enables you to fine-tune the massage to your exact preferences, ensuring that each session is tailored precisely to your body's unique needs.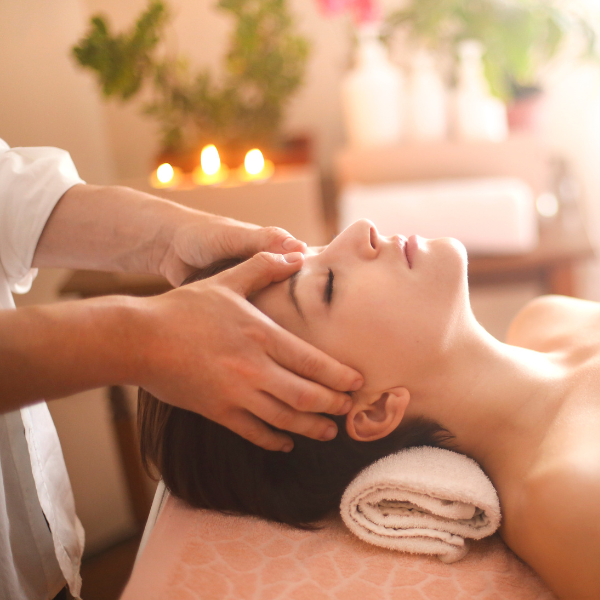 12 Automatic Massage Programs & 9 Massage Techniques
The Osaki Platinum Vera's 12 Automatic Massage Programs are a gateway to an array of carefully curated massage sequences, each designed to address specific needs and desires. Whether you seek to unwind after a long day, alleviate muscle tension, improve circulation, or simply indulge in a moment of tranquility, these programs offer a diverse range of options that cater to your every mood and requirement.
Complementing these programs are the chair's 9 Massage Techniques, each meticulously crafted to replicate the hands of a skilled masseuse. From kneading and tapping to shiatsu and rolling, these techniques provide a comprehensive selection of massage styles that can be combined and customized to target specific areas of your body.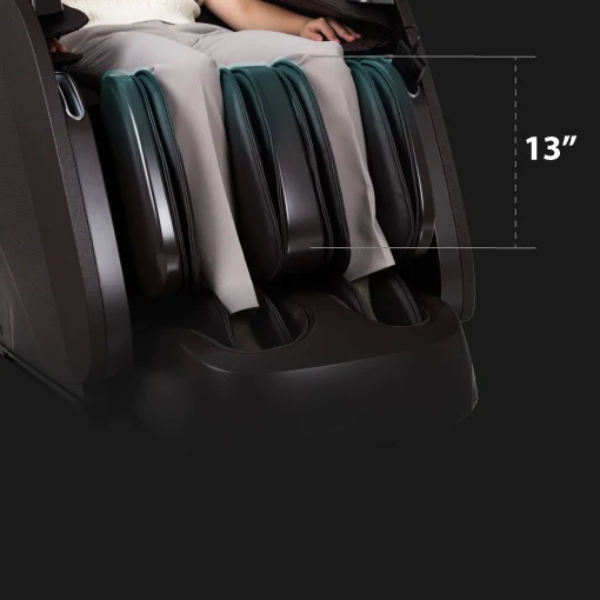 Extended Calf Rest
The Extended Calf Rest offers a 13-inch proportioned leg rest that accommodates various body types, ensuring a snug fit and optimal comfort for users of all sizes. This thoughtful design ensures that your entire lower body is embraced in soothing relaxation, making every massage session a truly immersive and rejuvenating experience.
CALL US 1-800-416-4304
We're here to help with a personalized recommendation.

Call us at 1-800-416-430
Chat with our Live Support Specialist