Osaki OS-Pro 4D DuoMax Massage Chair Review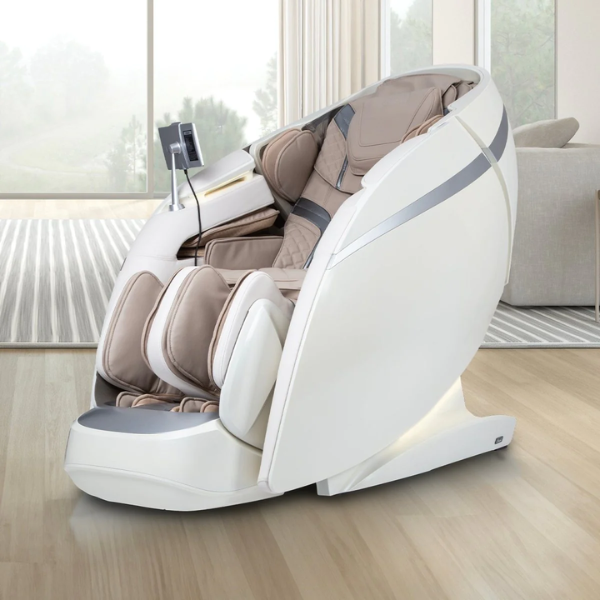 Welcome to our in-depth review of the Osaki OS-Pro 4D DuoMax Massage Chair, where innovation meets relaxation in a perfect blend of cutting-edge technology and soothing comfort. It's no wonder the Osaki DuoMax is one of the Best Massage Chairs on the market. In today's fast-paced world, finding moments to unwind and rejuvenate is crucial, and the Osaki DuoMax promises to be your personal oasis of tranquility. This remarkable massage chair represents the pinnacle of modern massage chair engineering, boasting not only Osaki's renowned expertise but also the advanced 4D massage technology and the Osaki DuoMax system that sets it apart from the rest. Join us as we delve into the features, benefits, and overall experience that this massage chair brings to the table, helping you make an informed decision about investing in the ultimate relaxation companion for your home or office.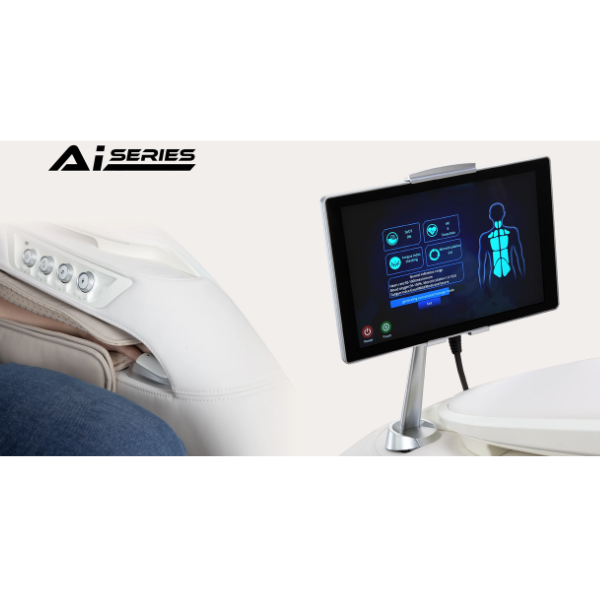 Intelligent Health Detection
One of the standout features that propels this chair in the Osaki DuoMax Massage Chair Review is its Intelligent Health Detection system. This ingenious technology takes massage chairs beyond their conventional purpose, transforming them into comprehensive wellness hubs. In a world where personalized experiences are highly valued, this innovation responds to the unique needs of each individual user.
At the heart of this system lies a network of advanced sensors strategically placed within the chair. These sensors work harmoniously to gather real-time data about the user's body, such as body shape, heart rate, and blood oxygen levels. This information forms the foundation for a massage experience that is tailored with unparalleled precision.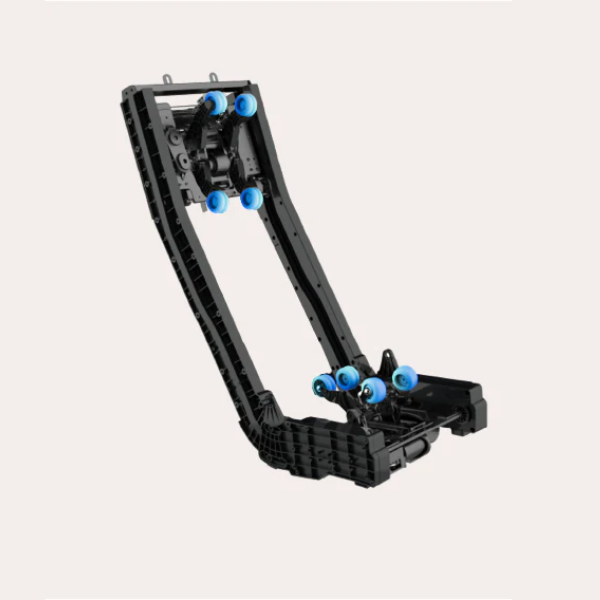 Dual Massage Mechanism
Designed with the precision of a skilled masseur, these two mechanisms simulate the motions of human hands, kneading, pressing, and rolling along your body's contours. Two separate quad-style massage rollers work simultaneously, one for the upper body, and one for the lower body. One of the main features that stands out in the Osaki DuoMax Massage Chair review is the 4D technology, which grants you the ability to adjust the depth and intensity of the rollers. From gentle and relaxing to deep and invigorating, the choice is yours to make.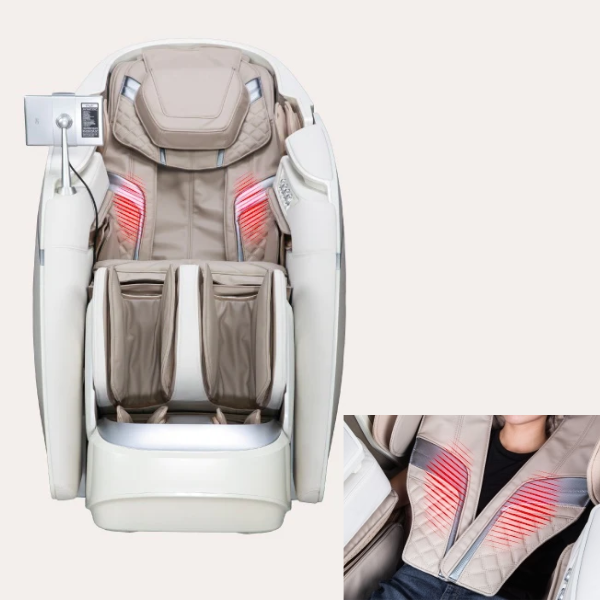 Heat Therapy & 2 Heating Cores
Heat therapy has long been revered for its ability to soothe sore muscles, alleviate tension, and promote a sense of calm. The Osaki DuoMax takes this ancient practice and elevates it to a modern art form, thanks to its innovative dual heating cores. Strategically positioned between the chair's massage rollers, these heating cores emit a gentle, enveloping warmth that works as the rollers run along the contours of your body. In addition, the DuoMax features lumbar heating pads and a unique heating shawl that can be placed over the torso like a vest, heating the chest and stomach area.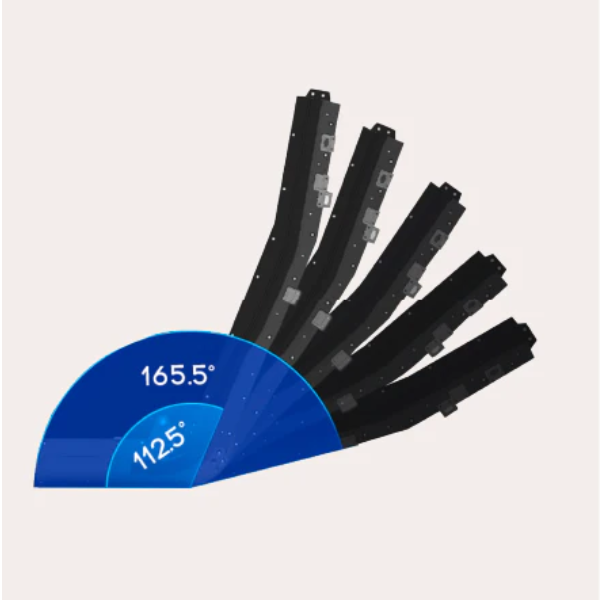 SL-Flex Track
The SL-Flex Track is a feat of engineering precision that mirrors the natural curve of the human spine. Unlike conventional massage chairs with fixed tracks, the Osaki DuoMax boasts an ergonomic design that adapts to your body's unique structure. As you settle into the chair, you'll immediately notice how the SL-Flex Track gently conforms to your spine, ensuring that every massage movement—from the base of your neck to the lower lumbar region—is perfectly aligned. The DuoMax is perfect for all body types and is perfect for users who range between 5'0" - 6'1" in height.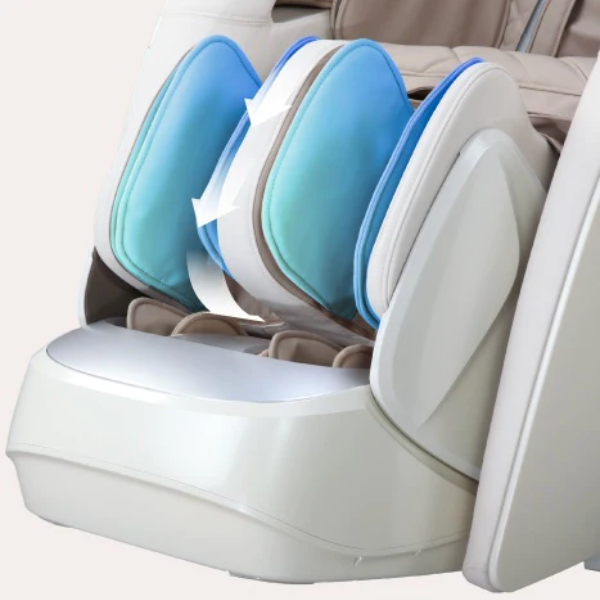 Deep Calf Kneading & Auto Extendable Footrest
The Deep Calf Kneading feature transports you to a world of blissful relief. As you recline in the massage chair, you'll immediately notice the attention to detail that sets this feature apart. Strategically placed airbags and two calf rollers gently envelop your calves, creating a sensation of gradual compression and release that mimics the touch of skilled hands. The result? An authentic calf massage experience that effectively targets muscle tension and promotes blood circulation. But the innovation doesn't stop there. The Osaki DuoMax goes a step further with its Auto Extendable Footrest feature that can extend up to 6.5 inches. This feature intuitively adjusts the footrest to cater to individuals of various heights, ensuring that your feet are properly positioned for optimal massage coverage. Whether you're tall or petite, the massage chair adapts to your stature, providing a personalized experience that guarantees every inch of your feet is indulged in the comfort and care it deserves.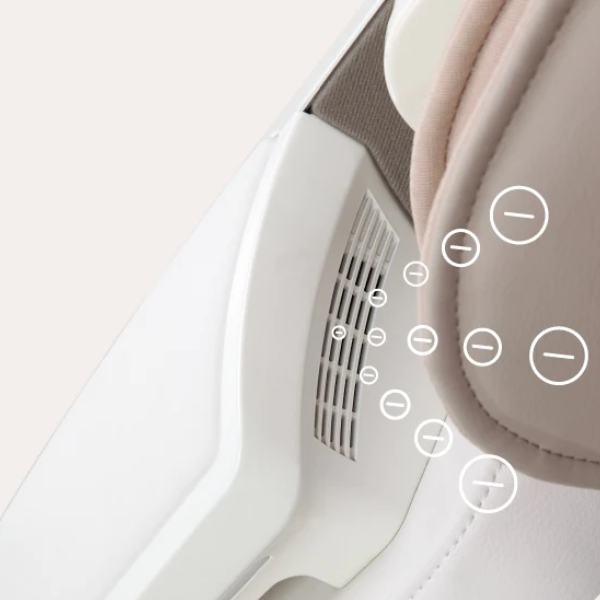 Negative Oxygen Ions
Negative Oxygen Ions, often found in pristine natural environments like forests and waterfalls, are known for their potential to enhance mood, reduce stress, and promote overall well-being. Imagine indulging in a massage that not only pampers your body but also nourishes your mind and soul. The Negative Oxygen Ions work synergistically with the other features of the Osaki Duomax, enveloping you in an environment that promotes mental clarity and emotional balance. Whether you're unwinding after a hectic day or simply seeking a moment of respite, the presence of these ions creates a sanctuary of calm, reminding you of the serene settings where nature's rejuvenating touch is felt most profoundly.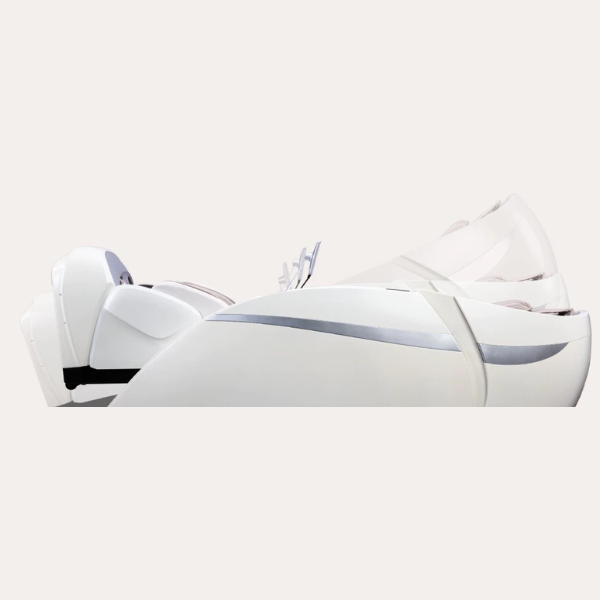 Two Stage Zero Gravity Recline & Space Saving Technology
The Two Stage Zero Gravity Recline is a testament to Osaki's commitment to elevating your massage experience. Inspired by NASA's zero gravity technology, this recline function positions your body in a way that reduces pressure on your spine and joints. As you transition through the stages, you'll feel a sensation of weightlessness and a gentle cradling effect, creating the perfect angle for the massage rollers to work their magic. This optimal positioning enhances the massage's effectiveness, allowing you to enjoy a deeper level of relaxation and tension relief. As you recline into zero gravity, the innovative design of the Osaki DuoMax glides forward, minimizing the space required between the chair and the wall. This means you can enjoy the full benefits of zero gravity without needing to worry about rearranging your room.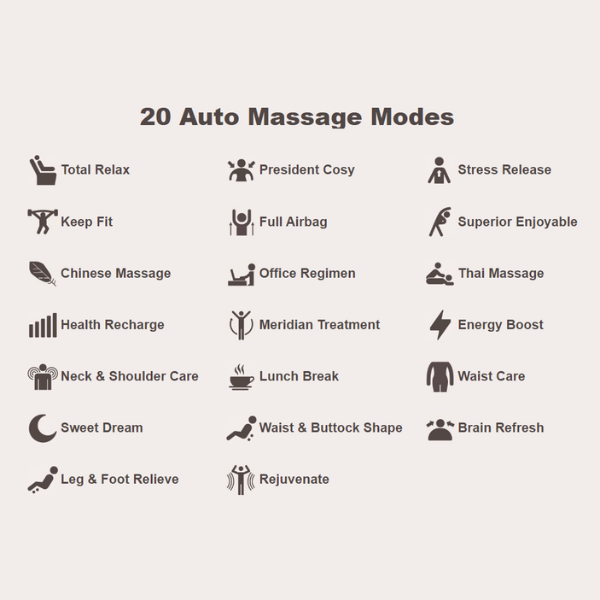 20 Auto Programs & 11 Manual Modes
Prepare to be amazed by the Osaki DuoMax Massage Chair's array of 20 Auto Programs and 11 Manual Modes that put the power of massage customization in your hands. This feature-rich offering is a testament to Osaki's dedication to tailoring your massage experience to your unique preferences, ensuring that every session is a harmonious symphony of comfort and well-being.
The 20 Auto Programs serve as your personal guide to a diverse range of relaxation experiences. Whether you're seeking a gentle, soothing massage after a long day or a more invigorating kneading to energize your senses, these pre-set programs have you covered. From targeted muscle relief to full-body relaxation, the Auto Programs cater to a variety of needs, making it effortless to find the perfect massage that aligns with your mood and physical state.
But the true beauty lies in the 11 Manual Modes, which empower you to become the architect of your massage journey. These modes offer you the freedom to customize every aspect of the massage—from the massage type and intensity to the specific areas you wish to focus on. Whether you're looking to concentrate on your shoulders, alleviate tension in your lower back, or enjoy a full-body massage, the Manual Modes put you in complete control.
CALL US 1-800-416-4304
We're here to help with a personalized recommendation.

Call us at 1-800-416-430
Chat with our Live Support Specialist